Sybrin has been
hard at work.
Following a spectacular sunset cruise on a Catamaran down the Atlantic coastline, official proceedings commenced on Thursday morning. Delegates were warmly welcomed by our Business Development Director, Marius Maré, as well as our Africa and Middle East Sales Director, Daniel Parreira. This was followed by a brief introductory session by Brian Gubbins, Group Business Development Director at EOH, during which delegates were privy to an enthralling topical discussion on the complexity of the humans' vs technology debate.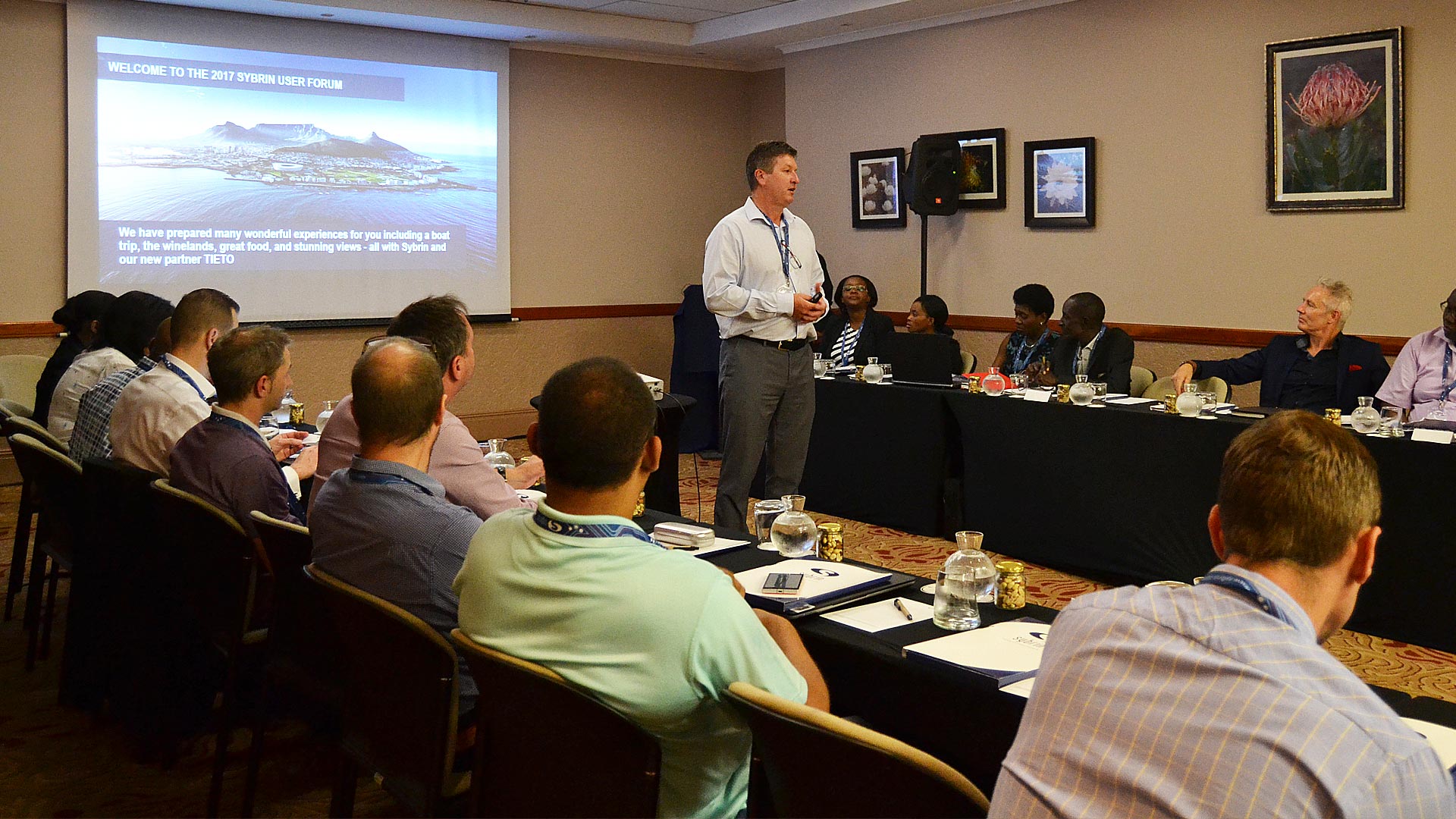 Sybrin has been hard at work refining our product suite (Sybrin Enterprise Suite) and this was proudly launched at the event, giving delegates the unique opportunity to be the first to see the latest cutting-edge version of Sybrin. We also introduced them to some of our newest solutions including Customer Communications Management (CCM), Channel Solutions, and Case Management.
C4

introduction.

Delegates were also introduced to C4, by Raymond Moodley, C4 Sales Director. C4 is a core banking, lending and card management solution offered through a SaaS in the Cloud model. With C4 now in its stable, Sybrin foresees many successful future integrations to provide our clients with a comprehensive end-to-end offering.

view website
Our newest partner,

Tieto.

Sybrin took this opportunity to also introduce our newest partner, Tieto, to our clients. Tieto is the leading provider for retail payment solutions in Europe, Asia, and Africa with a stated strategic objective to invest in the African continent.

view website
Payments at
Barclays Africa.
The second day of our User Forum commenced with a captivating presentation by our Guest Speaker, Andrew Baker, CIO: Corporate, Investment Banking, and Payments at Barclays Africa. He shared his knowledge with us on the "Business of Bitcoin/Blockchain" and its application within the financial ecosystem.
In
closing.
Ending off with an interactive user session delegates were given the opportunity to sit down with a Sybrin facilitator to discuss their requirements and engage in constructive feedback sessions to ensure Sybrin is providing them with the best possible solutions to meet their needs.
We are extremely grateful to our clients for their enthusiastic participation at the User Forum, and look forward to the continual development of our engagements and relationships with them.